Working to shatter the silence and end the secrecy
that has for centuries
nurtured and perpetuated the
sexual, spiritual and ritual abuse of children, women and men
by priests and members of the Catholic Church hierarchy.
ABOUT US:

In January of 2002 The Boston Globe published its' first article about priest sexual abuse in the Catholic Archdiocese of Boston. That article led to countless revelations about priests who were molesters not only in Boston but in other states and countries as well and resulted in the discovery of systemic conspiracy and cover up by the bishops, cardinals and popes of the Catholic Church.
To say it was a difficult time here in Boston would be a huge understatement. Day after day the media was filled with more revelations about the horrors of being sexually abused by someone you were taught was next to God and who you must respect, trust and obey . Day after day victims who had never before told anyone that they had been sexually abused by a priest were coming forward and speaking their truth to those who would listen telling them that the same priest who may have comforted others in sorrow and celebrated with others in joy, was at the same time, sexually abusing them in the rectory, the church or any other place he could find. And finally, when tens of thousands of church documents were released and made public as a result of court orders, the denial of a few good Catholics finally began to disintegrate leaving in its' ashes feelings of betrayal, outrage and sorrow.
It was from those ashes that early in 2002 STTOP was born for the purpose of supporting survivors and demanding responsibility and accountability from the Catholic Church. Since we first came together, STTOP has been one of the lead organizers of countless demonstrations, protests and vigils including Solidarity marches, Red Mass Protests and weekly Sunday protests at various churches and cathedrals throughout the country. Carrying signs calling for resignations, responsibility and accountability initially we were met with anger, threats and reprimands such as when a parishioner scolded us for demonstrating during Lent but quickly disappeared when a survivor responded "...but they raped me during Lent".
In time the initial anger we were first met with began to lessen, especially in those places where we demonstrated often and/or where we carried pictures of adult survivors as children, many of whom were dressed in Holy Communion dresses or suits. Indeed, in time some parishioners would thank us for being there and tell us to keep up the "good work". But of all the reactions and responses we have received over the years none has made what we do more worthwhile than when someone comes to us and quietly tells us that they too had been sexually abused by a priest as a child. Such was the case of an older man, well into his seventies who looked as devout as any Catholic could look leaving Mass. As he walked towards us none of us were quite sure whether he was going to yell, spit or ignore us. As he slowly approached our place on the sidewalk, he began to cry and in seconds was being held as he told us that between the ages of 8 and 10 he too had been sexually abused by a priest and up until this moment, he had never told anyone. More than his tears rained on the sidewalk that day...and I believe more than our spirits received a little additional healing as well.
And so, we continue to demonstrate and demand accountability. It's been awhile since we have used the bullhorns, but our message and philosophy remains loud and clear...strong and consistent. We demand accountability...we demand resignations of corrupt bishops and cardinals...we refuse to allow the sexual abuse of children and adults to be swept into invisibility... we recognize and honor the right of each individual to speak from her/his heart...we will not forget what has, is and will continue to happen unless accountability and meaningful change takes place in both the religious and secular communities. This web site is an extension of our commitment and a record of what we have done, what we are doing and what actions are being planned. We hope that you will click on the links and that you find the resources, transcripts of speeches and pictures of some of the "Action for Changes" we have co-sponsored and participated in helpful. We welcome your comments and wish each of you support as you do the work you have been called to do. Thank you again for visiting our site!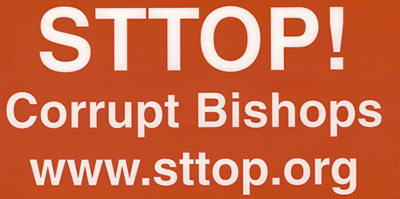 Bishops in all areas of the country are guilty of conspiracy in the criminal sexual abuse of children and adults. According to"Sex, Priests, and Secret Codes", the recently published book by Doyle, Sipe and Wall, sixteen U.S. bishops have also been publicly named as sexual abusers. (see page 60). Furthermore, the number of priest who sexually abuse children and adults is estimated to be in the thousands. And still, after all that has been revealed, the hierarchy of the Church continues to refuse to inform the appropriate authorities of the names and whereabouts of those who have been accused.
We say STTOP!

STTOP the abuse and conspiracy...
STTOP the silence...
STTOP the secrecy...
&
START working with your legislators...
START working with advocacy groups...
START speaking up and speaking out...

JOIN US NOW as we and many others continue to support survivors and to work towards creating a more safe, sacred and secure society for all children and adults.
While STTOP! works with many groups and individuals regarding clergy sex abuse, STTOP! neither endorses nor promotes the specific opinions on other matters and/or mission statements of any group or individual listed on our site.