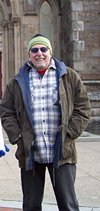 Richard Orareo is one of the coordinators of STTOP. He is a strong and courageous "Sidewalk Protester" who has for years now stood on the sidewalk in front of the cathedral in Boston holding signs, passing out leaflets and in general, being a supportive person to those affected by the crimes of sexual abuse in the Catholic Church and the actions and inactions of priests, bishops, cardinals as well as the church employees, the laity and the pope himself. When not on the sidewalk in Boston, Richard can be found on the sidewalks of New Hampshire, Maine, New York and most recently, Chicago standing with others who are likewise determined to hold the guilty party's responsible for their behaviors and not to allow this part of the churches history to be swept into invisibility. What follows is an email that Richard wrote at the conclusion of Cardinal O'Malley's Novena Tour.
SUBJECT LINE OF RICHARD'S EMAIL READ: "OH ME OF LITTLE FAITH"
By Richard Orareo
June 6, 2006
I DIDN'T KNOW WHY I WALKED INTO THAT CHURCH SATURDAY NIGHT; IT WAS NOT A CONSCIOUS DECISION. IT WAS NOT INTELLECTUALLY THOUGHT THROUGH, IT WAS A SPONTANEOUS ACT. I WONDERED WHY I WENT IN. MAYBE IT WAS BECAUSE I HAD BEEN STANDING IN THE RAIN FOR NEARLY THREE HOURS. MAYBE IT WAS BECAUSE MY FRIEND ANITA, WHO IS A DAILY COMMUNICANT, WAS INSIDE. MAYBE IT HAD SOMETHING TO DO WITH THE NEARLY NAKED RANTING WOMAN THEY ESCORTED OUT OF THE CHURCH EARLIER. OR MAYBE IT WAS MY MORBID CURIOSITY ABOUT WHAT O'MALLEY WAS TO SAY AND DO AT THESE GATHERINGS. BUT, AFTER HE ENTERED THE CHURCH WITH HIS FLOCK OF FOLLOWING SHEEP. I, TOO, WENT IN AND SAT CLOSE TO THE FRONT, AS THAT WAS WHERE ANITA SAT. SHE WAS CLOSE TO THE HUSBAND OF BARBARA THORP. ALSO NEARBY WAS THE EDITOR OF THE PILOT.

THE SERVICE HAD ALREADY STARTED, O'MALLEY AND TWO OTHER PRIESTS WERE ALL IN RED AT THE ALTAR. IMMEDIATELY I THOUGHT OF THE SYMBOLISM OF THE BLOOD SHED BY VICTIMS WHILE BEING RAPED BY PRIESTS. SYMBOLISM IS IMPORTANT TO THE RITUAL OF THE CHURCH. TO THEM, THE RED VESTMENTS WAS TO RECALL THE PRESENCE OF THE HOLY SPIRIT, IT WAS PENTECOST. I WONDERED IF I WOULD SENSE THE PRESENCE OF THE SPIRIT, HOLY OR NOT. I SAT WHILE OTHERS STOOD OR KNELT DOWN. I REMEMBERED OUR STANDING AND TURING OUR BACKS WHILE OTHERS SAT SHOCKED AT OUR DISRESPECT.
I LISTENED INTENTLY TO THE STORY OF THE DOUBTING THOMAS, AND WONDERED, AM I OPEN MINDED ENOUGH TO DOUBT? DOES DOUBT MEAN THAT I MAY HAVE SOME FAITH LEFT. I DON'T KNOW, I DOUBT IT! THE STORY ENDS WITH JESUS GIVING THE POWERS OF THE HOLY SPIRIT BY BREATHING ON THEM. I DON'T KNOW WHAT THE SYMBOLISM OF BREATHING ON THEM IS ALL ABOUT. WHATEVER THE SYMBOLISM IS SUPPOSED TO MEAN, IT DIDN'T WORK ON O'MALLEY, OR LAW, OR MALONEY, OR MCCORMACK, OR DAILEY, OR ANY OF THE OTHERS. THEY LACK SPIRIT, TRUTH, HONESTY, INTEGRITY, BELIEF, AND FAITH.
I LISTENED TO O'MALLEY SPEAK AS TEACHER, AS BISHOP. HIS SLOW DROAN OF A VOICE SHOWED NO SPIRIT, HOLY OR NOT. DURING THIS HOMILY HE NEVER ONCE MENTIONED VICTIM, OR SURVIVOR. HE DID NOT SPEAK TO THE ISSUE OF CHILD MOLESTATION, HE DID NOT USE THIS OPPORTUNITY TO CALL DOWN A SPIRITUAL BLESSING OF HEALING. HE OFFERED NO COMFORT, NO SOLACE, NO HEALING. HE JUST DROANED ON AND ON.
FEELING ANGRY AND FRUSTRATED I LOOKED AROUND AT THE ARCHITECTURE AND THE ART; ALL RATHER NON-DISCRIPT. I LISTENED TO THE MUSIC BEING SUNG BY A WOMAN WHO WAS TOO OLD AND TOO HEAVY TO BE WEARING A MINI-SKIRT. I WONDERED IF O'MALLEY OR ANY OF HIS 20 PRIESTS EVEN NOTICED.
MY SENSE OF ANGER ROSE HIGHER WHEN IT CAME TIME FOR THE PRESENTATION OF THE GIFTS. UP THE AISLE CAME THREE YOUNG BOYS. THE SYMBOLISM WAS JARRING; ONE PUBESCENT, THE OTHER TWO PRE-PUBESCENT. THEY AWKWARDLY PRESENTED THEIR PRECIOUS GIFTS TO THE SMILING O'MALLEY. HE PASSED THE GIFTS OFF TO THE OTHERS. YES, THEY BLESSED THOSE GIFTS AND THEN DEVOURED THEM. A CRIMINAL ACT PRESENTED BEFORE OUR VERY EYES; HERE AN ACT OF SYMBOLISM, OTHERWISE AN ACT OF RAPE. I WONDERED IF ANYONE ELSE SAW WHAT I SAW, KNEW WHAT I KNEW. I SAT IN SILENCE AS THE FAITHFUL FOLLOWERS JOINED IN THE ACT AND PARTICIPATED IN THE RAPE. AT THE END OF THE SERVICE O'MALLEY ANNOUNCED THAT HE HAD COMMUNICATED TO THE POPE HIS NOVENA OF REPARATION. IN RETURN THE POPE EXTENDED HIS APOSTOLIC BLESSING TO O'MALLEY AND ALL WHO PARTICIPATED IN THE NOVENA. FROM THE HIGHEST RANKS OF THIS UNHOLY ROMAN CATHOLIC CHURCH T HEY ARE UNITED IN THIS FOLLY
WHEN THE MASS WAS OVER, O'MALLEY SPOKE THE WORDS OF REPARATION, REPAIRING HIS CHURCH. HE SPOKE OF THE PAIN OF HOLY MOTHER CHURCH AND THE NEED TO REBUILD. HE OFFERED BLESSINGS TO THOSE WHO SUFFERED AT THE HANDS OF HIS PRIESTS. THIS HOLY MOTHER CHURCH, ALL MEN WHO RAPED AND PILLAGED, WHO SLANDERED GOODNESS AND INNOCENCE, WHO WATCHED AND REMAINED SILENT; COMPLICIT AND GUILTY. AT THIS POINT I SAT THERE SEETHING, NEEDING TO ESCAPE THIS MADNESS.
AS HE AND HIS ENTOURAGE WALKED DOWN THE CENTER AISLE TO GREET THE PEOPLE ON THEIR WAY OUT. I WALKED DOWN THE SIDE AISLE AND RAN RIGHT INTO ANTONIO ENRIQUE, THE EDITOR OF THE PILOT. I WOULD LIKE TO TALK TO YOU, I SAID LOUDLY. HE PULLED OUR A SMALL TAPE RECORDER AND ASKED MY NAME, IF I WANTED TO GIVE IT. I DID, AND SPELLED IT OUT FOR HIM. RICHARD ORAREO, I SAID. O R A R E O. THOSE OF YOU WHO KNOW ME, KNOW THAT MY VOICE CARRIES FAR AND LOUD. O'MALLEY WAS ABOUT 15 FEET AWAY. I SPOKE TO THE ISSUE OF RAPIST PRIESTS LIVING IN OUR NEIGHBORHOODS WHILE O'MALLEY REFUSES TO NAME THEM AND GIVE THEIR ADDRESSES. I SPOKE OF O'MALLEY'S LOBBYING TO KEEP THE STATUTES OF LIMITATION IN PLACE WHILE HE SPEAKS TO THE NEED FOR THE PROTECTION OF CHILDREN. HYPOCRICY IS THE WORD I USED MOST OFTEN. I SPOKE OF THE PUBLIC RELATIONS SCAM THAT WE JUST WITNESSED, O'MALLEY HAD IT ALL VIDEO TAPED SO HE CAN P ROVE HE TRIED HIS BEST. HIS BEST FAILED. I AM CERTAIN THAT O'MALLEY HEARD ME, A CROWD GATHERED AROUND WHILE I SPOKE INTO THE RECORDER. I WONDER WHAT THE PILOT WILL PRINT, IF ANYTHING.
ONCE OUT IN THE RAIN AGAIN WALKING BACK TO MY CAR, I UNDERSTOOD WHY I WENT INTO THAT CHURCH. I HAD TO WITNESS WHY I NO LONGER CAN ENTER A CHURCH IN GOOD CONSCIENCE. I UNDERSTAND NOW THAT THE CHURCH WILL NOT CHANGE BECAUSE IT CANNOT CHANGE. THEY ARE SO MIRED IN MEDIEVAL RITUAL AND AND UNTRUTH AND SYMBOLISM THAT THEY KNOW NOT WHAT THEY DO. WITH THE MILLSTONE AROUND HIS NECK HE WILL CONTINUE ON.
YES, WE CAN BE A CONSTANT REMINDER IN OUR DEMONSTRATIONS AND PROTESTATIONS; BUT, IT IS ONLY THROUGH THE COURT PROCESS AND THE POLITICAL PROCESS CAN WE SUCCEED. LAW SUITS AND POLITICAL PRESSURE IS WHERE OUR ENERGIES AND EFFORTS MUST BE PLACED IF THERE IS ANY HOPE OF FREEDOM FROM RELIGION.